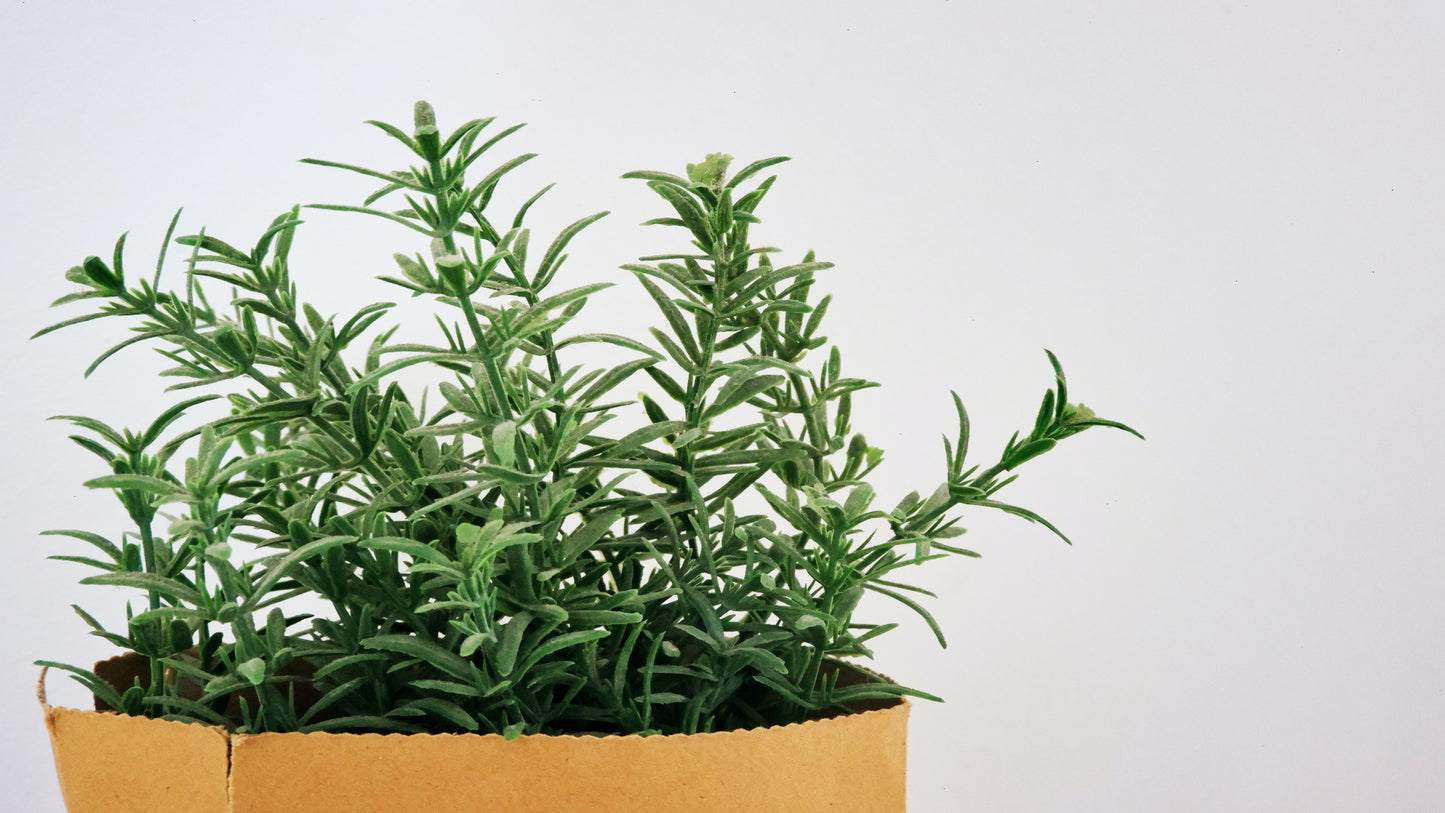 5 Ways Rosemary Oil is Amazing for Hair Growth
The use of rosemary oil is nature's gift for beautiful, flowing hair. It's a traditional Ayurvedic hair care ritual to stimulate and invigorate new hair growth. In fact, a 2015 study shows that rosemary oil has equal hair growth benefits to minoxidil.
Read on to discover why rosemary oil cultivates hair growth and reduces hair loss. You'll also find ways to use it to support radiant hair.
1. Non-Toxic and Natural
However, Ayurveda recognises that rosemary is good for its' restorative and energising properties and is Mother Nature's hair growth ingredient. Rosemary oil has a natural aroma, providing the aromatherapy benefits of relaxation and peace.
But that's not all. A hair growth study shows rosemary essential oil for hair regrowth has equal results to minoxidil. It also has less side effects and is a non-toxic alternative. Choosing a plant-based oil cultivates beautiful hair whilst protecting the ecosystem.
2. 

Increases Blood Circulation
Beautiful locks flourish when blood reaches the hair follicle, providing it with nutrients and oxygen. But, if you have poor blood flow, it will struggle to reach your scalp resulting in a lack of hair growth or even hair loss.
Rosemary is good for stimulating and drawing blood toward the hair root. A 2010 study shows rosemary oil may boost blood circulation in a local area. Therefore, using it during a scalp massage is particularly beneficial.
3. Anti-Inflammatory
Many scalp conditions, such as psoriasis, dandruff and dry scalp, prevent hair growth.  The compromised environment diminishes the hair follicles' ability to thrive.
Rosemary oil contains antioxidants, which are anti-inflammatory. A 2022 study shows that rosemary is good for healing and balancing scalp conditions such as dandruff. It's also antibacterial, healing infections and restoring skin.
4. Stimulates Cell Turnover
You may have heard of cell regeneration for healthy, glowing skin. But it is also essential for beautiful hair growth. Rosemary is rich in carnosic acid, which repairs nerve endings and encourages cell turnover.
Hair follicles do not go dormant or lose blood supply. Instead, rosemary helps them rejuvenate for faster growth and thicker hair.
5. Prevents Hair Loss
Besides hair regrowth, preventing hair loss is the next step for sumptuous, radiant hair. There is a multitude of reasons for hair loss, including stress, poor diet, and harmful products. But next time your struggle with your well-being, rosemary oil can protect your hair until it passes.
Rosemary oil stops hair follicles being cut off from your blood supply by invigorating the blood vessels. It enhances your hair's energy source strengthening the hair follicle and strands. This makes them more resilient to internal and external stressors. 
How to Use Rosemary Essential Oil for Hair Growth
Add it to your shampoo
Adding a few drops to your shampoo is a seamless way to get the nurturing benefits of rosemary oil. Simply mix with your shampoo before washing your hair and apply directly to your scalp.
Even better, use an organic, natural shampoo infused with rosemary oil for the best results. Not only will you stimulate hair growth, but you will treat inflammatory scalp conditions such as dandruff or psoriasis.
An invigorating scalp massage
Scalp massages are a tranquil way to remove build-up, nourish the scalp, and encourage blood circulation. Applying rosemary oil to scalp massages will rejuvenate your hair as you therapeutically massage it in for 10-15 minutes.
Alternatively, you can dilute a few drops of rosemary essential oil with a carrier oil (for example, olive, castor or argon oil).
Never apply straight onto the skin. Essential oils are potent and can cause itching, burning and inflammation. When you dilute the essential oil, you will still get the pros of hair growth without irritating side effects.
Create a rosemary essential oil hair spray
Some people don't like to apply oil to their scalp, or they find it too time-consuming. An alternative is to create an invigorating rosemary essential oil spray.
Mix rosemary oil with distilled water, shake well and spray onto your scalp for a ritualistic hair routine. Restorivately massage it in with your finger tips, morning and evening. You can also enrich it with hair growth essential oils such as peppermint.
A 2014 study shows peppermint essential oil is a non-toxic way to cultivate hair growth. Tea tree is a healing, anti-bacterial and anti-inflammatory oil and is another restorative ingredient. Oil and water separate, so ensure you always shake your hair growth elixir well.
Rosemary Oil Fosters Beautiful Hair Growth
Rosemary oil is an incredible and natural way to enhance hair growth. It treats scalp conditions, supports blood circulation, and stimulates cell turnover.
Invest in a rosemary oil-infused shampoo, use it to enhance a scalp massage or make a rosemary oil spray for hair regrowth. Add rosemary oil to your ritualistic hair care routine, and it won't be long before you see lustrous results.
Products That May Interest You:
FAQs
How long does it take for rosemary oil to stimulate hair growth?
Six months. A 2015 study comparing rosemary oil and minoxidil shows that hair regrowth occurred about six months after use. The essential oil was paired with a scalp massage, so create a tranquil environment and give your hair some TLC.
Can I put rosemary oil directly on my hair?
Yes. As long as you dilute organic rosemary essential oil with a carrier oil (such as argan or olive), you can apply it directly to your scalp. You can also dilute it with distilled water to make a rosemary essential oil spray. Spritz it onto the scalp and massage in to support hair growth.
What happens if you put too much rosemary oil in your hair?
Irritation and redness are common if you apply too much rosemary oil to your hair or scalp. It is a potent, natural ingredient, so you must dilute it before use.
If the formula is too strong, then reduce the amount of rosemary oil to carrier oil ratio. Remember, some people have more sensitive scalps than others. So, listen to your inner self to grow lustrous, smooth hair.